Eternal Toothbrush
The Eternal Toothbrush is handmade in Florence, made to last forever,
not only for years or decades but even for centuries: a thoughtful combination of noble metals which have
natural antibacterial and antiviral qualities: Pure Copper, Sterling Silver and 24K Gold plated Sterling Silver.
We have created three different models of Oligodynamic toothbrushes with matching accessories. You can look up the oligodynamic properties of

Pure Copper, Sterling Silver and 24K Gold

on the internet. Let me just say that not only historically, but also with modern scientific evidence, it can be easily proven that these

materials start killing bacteria and viruses after minutes and completely sanitize in a natural and sustainable way within hours

. The bristle heads we use are made in Italy and are themselves covered by silver. Teaming up with a large Italian toothbrush producer allows us to provide you with replacement heads that are easily found all around the world. Furthermore, they have been tested by researchers of the University of Milan. As such, they are

FDA approved

(U.S. Food and Drug Administration).

The best of florentine artisan craftsmanship selected for you by FLORENCE5 – Artisan Finder.


Each toothbrush, each marble stand, each guard cap, each box, are handmade one by one.
The marble base for the Pure Copper and Sterling Silver models is excavated directly in Carrara
, Tuscany and as you probably know, it is one of the most famous marbles of the world, used by sculptors such as Michelangelo. Currently, they are shaped by hand by
Master Artisan Stefano Lombardi
who is specialized in the carving of marble fireplaces. For the 24K Gold plated Sterling Silver version, we have chosen a green marble from the Italian Alps (Marmo Verde delle Alpi).
The guard caps are also made in the corresponding materials. We have invented and incorporated special brushes which 'comb' through the bristles as you insert the head into its guard cap to shake off excess water and to make the oligodynamic effect take place faster. The airflow grilles are inspired by Italian sports cars of the 1960s.
The gift box is also handmade in Florence by Master Artisan Mimmo Albano of Scatolarte.
Choose your precious stone inlay: lapis-lazuli, black onyx, malachite and many others on request.

Free engraving of your initials with all complete sets.

Worldwide shipping: We ship anywhere in the world.
Fully insured transport: Our products travel fully insured.
Fast delivery: We deliver to your doorstep in days.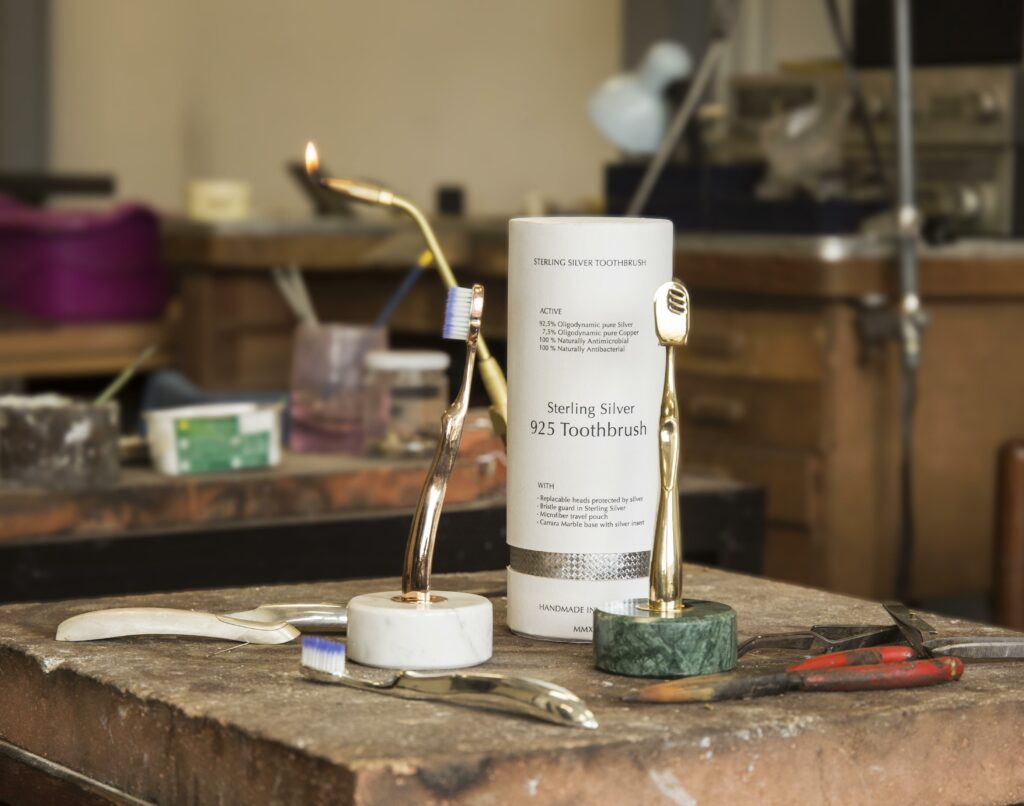 €

1,899.00

24K Gold plated Sterling Silver Toothbrush Set in 92.5% oligodynamic Pure Silver and 7.5% oligodynamic Pure Copper plated with 24K Gold
Handmade by Master Artisan Sandro Tinacci in Florence.

Includes:

24K Gold Plated Toothbrush
24K Gold Plated Guard Cap
Green Alps Marble Base
Microfiber Cleaning Cloth
Handmade Gift Box
Free engraving of your initials

€

1,699.00

925 Sterling Silver Toothbrush Set in 92.5% oligodynamic Pure Silver and 7.5% oligodynamic Pure Copper.
Handmade by Master Artisan Sandro Tinacci in Florence.
Numbered from 1 to 30.

Includes:

925 Sterling Silver Toothbrush
925 Sterling Silver Guard Cap
Carrara Marble Base
Microfiber Cleaning Cloth
Handmade Gift Box
Free engraving of your initials

€

1,149.00

Pure Copper Toothbrush Set in 92.5% oligodynamic Pure Copper.
Handmade by Master Artisan Sandro Tinacci.
Numbered from 1 to 30.

Includes:

100% Pure Copper Toothbrush
Pure Copper Guard Cap
Carrara Marble Base
Microfiber Cleaning Cloth
Handmade Gift Box
Free engraving of your initials